setting a record in NoLIta, as 354 Broome Street loft with single window barely breaks $/ft record
Manhattan loft volume comes at a price at the (other) Ice House
When we were last at 354 Broome Street, it was to note the setting of a new building record (on a price per foot basis), in my July 23, 2012, double bold-faced loft sale at 354 Broome Street: a harbinger or just a Bright Shiny Object?, not to snark about the ability of the New York Post to find a way to link to Victoria's Secret. (That was just a bonus, I swear.) Two years later, and that record has just been broken, and by 'just' I mean fairly recently sold but very recently recorded, and broken only by a little. The Manhattan loft #4B at 354 Broome Street can only be at "1,744 sq ft" if you count the mezzanine at full value; at that size, the July 9 deed at $2.2mm comes to $1,261/ft. In contrast, that sale of #3H was only at $1,232/ft. In June 2012.
In light of that comp, no wonder the #4B seller tried higher than the $1,261/ft she finally got:
| | | |
| --- | --- | --- |
| Jan 29, 2013  | new to market | $2.5mm |
| Mar 8 | off market | |
| Oct 15 | new firm | $2.799mm |
| Nov 18 | off market | |
| Dec 18 | new firm | $2.599mm |
| Jan 5, 2014 | | $2.2mm |
| Jan 8 | | $2.3mm |
| May 17 | contract | |
| July 9 | sold | $2.2mm |
Couple of notes … I bet that January 5 price was either a typo or miscommunication between seller and agent, in either case corrected within 3 days; and those asking prices started at $1,433/ft, hit a high of $1,605/ft, and finally settled at $1,319/ft for the last 4 months that it took to strike a deal, each of which would have been a more significant record.
a very white boxy loft that is not a 'white box'
I very much doubt that the seller lived in the loft the way it is pictured. Either the loft was empty but staged, or the seller is The Cleanest Woman In The World. Did you notice that there's nothing on the shelves in the 6th photo? And nothing on the walls in any photo? And that the bit of greenery-in-a-vase is shown in the kitchen in the 2nd photo but missing from that same counter in the 3rd and 4th? And doesn't it look as though the grey couch with 3 pillows that is in front of the window in the main and 2nd photos has been moved to the left wall in the 4th? Finally, who lives in a photo shoot like this?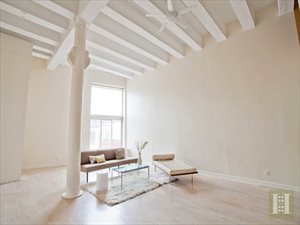 White ceiling, white walls, white oak floors, even a white ceiling fan … apart from the splash of color (aquamarine?) on the lower part of two columns, this is white on white on white. In theory, some people live this way. I just doubt it. You won't see a whiter loft. (Thanks for the photo, Halstead!)
But when real estate pros talk about 'white boxes' they mean something different: a loft that has been built out with the minimum requirements to satisfy the building code, with the expectation that the buyer will improve the loft by building it out with, among other things, new bathrooms and kitchen. So developers put as little money as possible into the loft (including slapping on the cheapest white paint they can find) in order to sell a legally 'finished' unit. (Ten Manhattan Loft Guy posts from the archives tagged "white box" can be found here.)
which is the outlier sale in the building?
In that July 23, 2012 post I noted that the #3H sale was not just a building record on $/ft but at a significant premium to past sales in the building:
The last three sales in the building were at substantially lower values than #3H at $1,232/ft. The "[d]ramatic and beautifully designed" #4C sold at $903/ft in September 2011; the "dramatic" loft #6B with "generous chef's kitchen" sold for $935/ft in May 2011; and the (yes, again) "dramatic" loft #5E  with "beautifully renovated and minimal kitchen" (not sure what that means) sold for $911/ft in December 2010. With one exception, you have to go to just after The Peak to see a 4-figure price per foot, when the loft #5G ("Triple Mint Architectural Renovation") sold at $1,088/ft.
That #3H sale at the time struck me as possible harbinger ("not so much an outlier but the sign of a market in transition, and that the trend line will (eventually) show that The Market began to pick up in mid 2012"). Of course, it turned out that the 2012 market was then in upward transition, but it is hard to reconcile #3H at $1,232/ft then and #4B at $1,261/ft now based on the performance of the overall Manhattan residential real estate market. The building history makes more sense if you take #3H out of this sequence:
| | | |
| --- | --- | --- |
| Dec 2010 | #5E | $911/ft |
| May 2011 | #6B | $935/ft |
| Sept 2011 | #4C | $903/ft |
| June 2012 | #3H | $1,231/ft |
| July 2014 | #4B | $1,261/ft |
Harbinger in June 2012 or not, the #3H sale makes no sense is difficult to reconcile with other building data.
With apologies if I offended The Cleanest Woman In The World. That.Is. All.