huge Flatiron coop loft sale at $1,435/ft proves there is no accounting for taste
some very un-loft-y elements here at 73 Fifth Avenue
Let's start with the floor plan of the "3,100 sq ft" Manhattan loft #5B at 73 Fifth Avenue that sold for $4.45mm down at the bottom of Flatiron (northeast corner of 15th Street). It is an unusual layout for a residential loft, in several respects: it features 2 irregular rectangles joined more or less at a right angle, but it's not on a corner of the building; it's huge (those "3,100 sq ft"), but has just 2 bedrooms; it's got perhaps the longest kitchen plus pantry I've ever seen; it boasts of being "sunny" and "bright" with 4 exposures, but it looks like only one of the exposures brings light, while the others aren't worth a damn. Very strange, but by no means the most strange thing about this loft.
Let me leave that hanging a bit and give you this tortured footprint, while noting how quickly The Market absorbed the loft.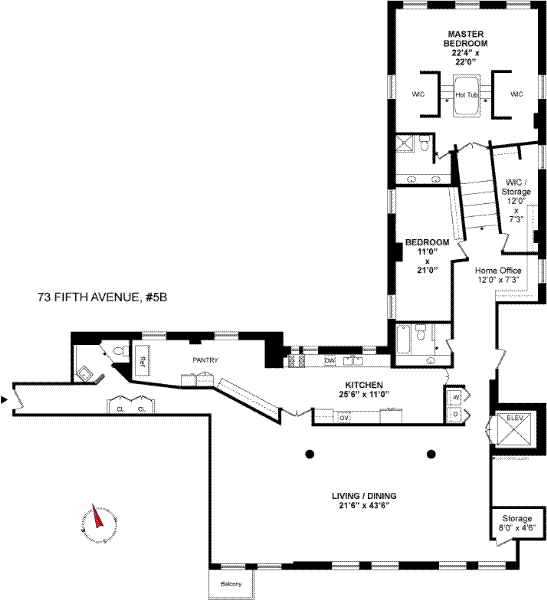 To market on April 2 at $4.675mm, in contract by May 16 at $4.45mm, and closed on August 28. That is especially impressive when you see that the loft directly above sold for only $3.5mm right around The Quarter Formerly Known As The Peak in "sun-flooded" and "recently renovated to include every modern convenience" condition. I can't find many photos from the upstairs loft, but the claim about the condition and light makes it very likely that it was in at least as nice condition in 2008 as #5B when it just sold. Loft #6B has almost the exact same footprint as #5B (it claims only "3,000 sq ft", as the great room doesn't extend as far west as in #5B) but has a different layout, featuring 3 bedrooms.
Loft #6B sold for $1,167/ft in October 2008, after having been offered from May 2008 at $3.5mm and for 6 months at the end of 2007 at $3.5mm and $3.6mm. (Weird, that: it didn't sell heading into The Quarter Formerly Known As The Peak, when the sales in that quarter went into contract, yet it sold quickly when offered at the end of May 2008; but that's another [missed opportunity for a] post.) Loft #5B sold 6 weeks ago for $1,435/ft.
the two wings were not created equal
The glory of the space is that open south wing, with living / dining and kitchen / pantry. They key is not the size (the north wing is nearly as large) nor the ceilings (the same 12 ft throughout, d'oh), nor the number of exposures (there's just one), nor the size of the windows (all windows in the loft appear to be hip-to-ceiling); the glory is due to the volume ("ballroom-sized") and the quality of the single (south!) exposure.
The loft is "bright" because that south exposure is bounded by the buildings across 15th Street rather than by whatever is hidden by closed window treatments in the master suite.
taste, unaccounted
Going back to my intro, you can see the most strange thing about this huge Flatiron loft in the floor plan, and just off camera in the master suite photo above. What makes a master suite a suite? An "en suite" bathroom, of course, which you can see in the lower left of the master suite (double sinks, toilet, shower). Walk-in closets are also very suite (sorry), so the pair of flanked walk-ins helps. You see that rectangle on the floor plan between the two closets?
The words are not so prominent on the floor plan, but there's no mistaking the element in this listing photo:
Let's repeat:
1. there's no accounting for taste
2. this (startling) design did not prevent this: $1,435/ft, a premium of 23% over essentially the same loft upstairs at (former) Peak pricing
I bet you $0.25 that the new owners change the configuration of the master suite. And color scheme. (In what decade was Black & White hot? Not the twenty-teens….)
let's repeat, again, differently
As I said, there's no accounting for taste. In the Conventional Wisdom, unconventional design choices depress prices because they reduce the buyer pool. (Can we agree that a black hot tub in the master suite and flanked by mirrors is unconventional?)
If you are a long-time reader of Manhattan Loft Guy, you know that I have played with design choices like this in the past. The most recent example was in my March 22, 2012, love it or hate it? glass master bath sells at 181 Hudson Street loft, which I ended with this:
I do not expect to talk about bathing functions in (or public to) master bedrooms for quite a while, but you never know…
I believe that was a correct prediction. Two-and-a-half years is quite a while.
That one dealt with a glass wall directly behind the headboard, through which is visible the walk-in shower, tub, and sinks. There's no wall at 73 Worth Street in loft #5B, but the point is the same. Here's how I put it on March 22, 2012, with a few more unusual bath-and-bed layouts:
for fans of public bathing

I started up top from the perspective that the #3F master suite with glass wall separating the headboard and shower is an unusual choice, one that will shrink the buyer pool a bit. Sharp-eyed Manhattan Loft Guy readers will remember that it was just a few days ago that I mentioned a loft with an even more unusual blending of master sleeping and master bathing space.

In my November 11, 2010, nice flipping loft at 49 Howard Street, I dug through the designer's website of before and after pix of a gut renovation:

From these many photos and the before-and-after floor plans you can see what those "ten foot glass doors" do: they bring light into the master bedroom at the (otherwise) dark end of the loft. Look closely at the master bedroom photos.

Yes, somebody designed it with a huge bathtub in the master bedroom. Undoubtedly there is a proper proper name for this tub, and the modifier "soaking". And, yes, someone else bought it that way.

I mentioned that deluxe renovation and very strong sale (for a 2-story walk-up!), but not the in-room bathtub, in looking at a nearby gut renovation with a spectacular view, in my March 19, a question of views for gut renovated 29 Howard Street loft at $1,383/ft.
When will the next weird bath-and-bed layout strike me? Probably after it strikes a buyer as not so weird…. With that, I will close. For now.